Portfolio – Page 2
IMPACT WRESTLING SLAMMIVERSARY 2015 Pix (where I faced my former BroMans Tag Team Partner Robbie E on Pay-Per-View) — 6/28/15
Appeared on CBS' The TALK as the surprise Celebrity Guest in an INCREDIBLY FUN segment called SKIN, LOSE OR DRAW with Superstar Rebecca Romijn (thanks to my good friend and the Executive Producer of The TALK, John Redmann). I also reunited with CBS Big Brother Host (and Moderator of CBS' The TALK)…The One & Only Julie Chen!!! — 6/8/15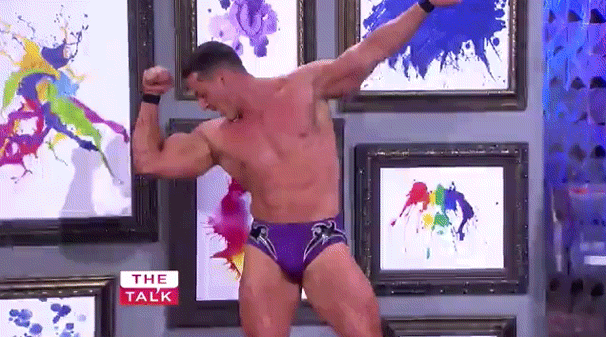 Pix of me vs. DJZ on IMPACT WRESTLING on DESTINATION AMERICA — 6/15
APPEARED AT WRESTLECON AND SHENANIGANS IN SAN JOSE, CALIFORNIA AS A GUEST OF MY GOOD BUDDY DAVE HERRO AND PWR PRO WRESTLING REPORT — 3/27/15 – 3/28/15
HANGING WITH MY GOOD BUDDY ROBERT DRENK, FOUNDER OF THE UAL (THE ULTIMATE ARM WRESTLING LEAGUE) AT TARGA TROPHY X FUSION OF IDEAS RALLY IN CALIFORNIA – 3/21/15
APPEARED ON DESTINATION AMERICA IN IMPACT WRESTLING'S ULTIMATE X MATCH FOR THE TAG TEAM TITLES IN A BOUT THAT WAS TAPED IN LONDON'S WEMBLEY ARENA — 3/20/15
APPEARED AT THE ARNOLD SPORTS FESTIVAL IN COLUMBUS, OHIO FOR BOTH VITARGO S2 AND PHOENIX KINETICREAM — 3/6/15 – 3/8/15
LATEST PIX…I am THE MAN and MODERN DAY ADONIS!!
PIX FROM THE MAXIMUM IMPACT 7 WORLD TOUR — 1/29/15 – 1/31/15
IMPACT WRESTLING FEAST OR FIRED POSTER — 1/23/15
PEC-TACULAR PIX WITH MY BUDDY, THE EDITOR OF MUSCLE & FITNESS MAGAZINE, SHAWN PERINE AND MY NEW FRIEND AARON TOLSON (ALONG WITH 5 TIME KO CHAMP GAIL KIM) AT OUR IMPACT WRESTLING TAPINGS IN NEW YORK CITY FOR DESTINATION AMERICA ON 1/9/15
2015 MAXIMUM IMPACT 7 WORLD TOUR POSTER
PIX OF THE BROMANS & BEAUTIFUL BROS FROM OUR DEBUT TV TAPINGS FOR DESTINATION AMERICA ON 1/7/15 – 1/9/15
MAJOR ANNOUNCEMENT ABOUT MY RE-SIGNING WITH IMPACT WRESTLING ON 1/2/15
My PEC-Tacular PEC Bounce During My Surprise Appearance on CBS Big Brother 12's Pandora's Box
THAT DROPKICK THO (6'6″ IN THE AIR)!! I'M AIR PEC-TACULAR!!! BOOM
THE BROMANS NOMINATED FOR TAG TEAM OF THE YEAR IN THE 2014 IMPACT WRESTLING AWARDS!!!
GYM PIX…I LOOK GOOD!!! BOOM
THE BROMANS WITH THE CBS AMAZING RACE SEASON 25 SUPERSTARS, THE #SWEETSCIENTISTS MAYA WARREN & AMY DeJONG, ON DECEMBER 7, 2014
YOUR TWO TIME IMPACT WRESTLING WORLD TAG TEAM CHAMPIONS…THE BROMANS
REPRESENTED IMPACT WRESTLING AT SPIKE TV'S BELLATOR MMA 131 EVENT FEATURING KING MO AND TITO ORTIZ AT VALLEY VIEW CASINO CENTER IN SAN DIEGO, CA ON NOVEMBER 15, 2014
PEC-TACULAR PIX BY THE BRILLIANT PHOTOGRAPHER GUSTAVO ALFARO
THE BEAUTIFUL BROS FACE THE MENAGERIE ON SPIKE TV'S IMPACT WRESTLING ON 11/12/14
THE BROMANS RETURN TO BRO-KYO TO TAKE PART IN THE WRESTLE-1 HOLD OUT CARD TO CELEBRATE KEIJI MUTO'S 30TH ANNIVERSARY ON 11/1/14
WITH ARNOLD SCHWARZENEGGER AT THE MUSCLE & FITNESS NOVEMBER 2014 COVER LAUNCH PARTY AT GOLD'S GYM VENICE (AS A PERSONAL GUEST OF MY BUDDY, M&F EDITOR SHAWN PERINE) — 10/28/14
THE BROMANS (DJZ AND I) ENTER THE IMPACT WRESTLING TAG TEAM TOURNAMENT TO TRY TO BECOME 3 TIME TAG CHAMPS ON 10/22/14
BEAUTIFUL BROS VS. THE MENAGERIE ON SPIKE TV'S IMPACT WRESTLING ON 10/15/14
The Beautiful Bros
POSTER ADVERTISING MY APPEARANCE AT FAMILY WRESTLING ENTERTAINMENT'S FWE BROOKLYN IN BROOKLYN, NEW YORK
POSTER ADVERTISING MY APPEARANCE AT MAXIMUM PRO WRESTLING'S GOLD RUSH 2015 IN ONTARIO, CANADA
POSTER ADVERTISING MY APPEARANCE AT GLCW (GREAT LAKES CHAMPIONSHIP WRESTLING) BLIZZARD BRAWL X TO WORK WITH MY CLOSE BUDDY DAVE HERRO IN WAUKESHA, WI
POSTER ADVERTISING MY APPEARANCE AT AWS PROMOTIONS (The Alternative Wrestling Show) IN SOUTH GATE, CA
BroMans with PEC-Tacular fan Jennie at our Bethlehem, PA IMPACT WRESTLING TV Tapings for SPIKE TV in September, 2014
SPOTTED BY THE PAPARAZZI ON THE STREETS OF NEW YORK CITY WHILE THERE FOR THE SPIKE TV IMPACT WRESTLING TV TAPINGS IN AUGUST, 2014
Spending Time with my CBS Big Brother Family in Las Vegas in September, 2014
Flexing with a famous PEC-Tacular fan during our BroMans ring entrance at The Manhattan Center in New York City for the IMPACT WRESTLING TV Tapings on SPIKE TV in August, 2014
The BroMans get matched up with The Beautiful People on SPIKE TV's IMPACT WRESTLING during the #DateABroMan Segment on 9/3/14
Two of my TV Families came together when CBS Big Brother Star Paola Shea (POW POW) visted me during a TV Taping for SPIKE TV's IMPACT WRESTLING at The Manhattan Center in New York City — August 7, 2014
My Tag Team Partner Robbie E & I of the 2 TIME WORLD CHAMPION BRO MANS on IMPACT WRESTLING XPLOSION IN THE UK — August, 2014
2014 Hearts of Reality Charity Event Benefitting Give Kids The World Village for Kids with Life-Threatening Illnesses in Celebration / Kissimee, FL — July 30, 2014 – August 3, 2014
My ONE-OF-A-KIND IMPACT WRESTLING BOUND FOR GLORY and LOCKDOWN PPV Place Card Posters that were just released in July, 2014
IMPACT WRESTLING TV & Radio Media Tour of Louisville, KY & Lexington, KY – July, 2014
The BRO-Mans (Robbie E, DJZ & I) joined other IMPACT WRESTLING Superstars as we visited our HEROES and their Families at The Wounded Warriors Project in New York City on 6/26/14
Photo of me with my good friend Shawn Perine (EDITOR of Muscle & Fitness Magazine) at our IMPACT WRESTLING TV Tapings for SPIKE TV at The Manhattan Center in New York City on 6/26/14
Represented IMPACT WRESTLING at the SPIKE TV Guys Choice Awards with Bully Ray, Velvet Sky & Taryn Terrell for the ceremony that aired on 6/11/14
Celebrity Appearance at Six Flags Over Texas to promote IMPACT WRESTLING's SLAMMIVERSARY XII on PPV; appearance was on 6/8/14
Made a Special Surprise Appearance as the Celebrity Guest Star on CBS' Big Brother 16 Press Day on 6/6/14
Featured TWICE on TMZ & TMZ Sports…once doing 41 PULL-UPS (WITH EASE!) OFF A STREETLAMP in New York City and once doing Yoga (ak.a. BRO-ga) with my BroMans Tag Team Partners Robbie E & DJZ — June & July, 2014
Looking ABS-Solutely PEC-Tacular at Universal Studios in Orlando, FL during an IMPACT WRESTLING TV Taping for SPIKE TV on 5/9/14
Throwing a ladder onto The WOLVES (Davey Richards & Eddie Edwards) during a LADDER MATCH for The Tag Team Titles on the IMPACT WRESTLING broadcast that aired on SPIKE TV on 5/8/14
YOUR TWO TIME IMPACT WRESTLING WORLD TAG TEAM CHAMPIONS, US BRO-MANS, DEFEATING THE WOLVES on SPIKE TV on 4/17/14
THE BRO MANS vs. THE WOLVES in a MAIN EVENT TAG TEAM TITLE MATCH on IMPACT WRESTLING on SPIKE TV on 4/10/14 (WHERE WE ALSO WIN!)
PEC-Tacular FAN ART
PIX from our IMPACT Wrestling Tour of Georgia from 4/3/14 – 4/5/14
PEC-TACULAR PIX FROM THE LEGENDS & HEROES MEET & GREET EVENT IN FORT WAYNE, IN ON MARCH 22nd, 2014
REALITY ROYALTY
THREE MEMBERS OF THE IMPACT WRESTLING HANDSOME MAN VAN (ROBBIE E, DJ ZEMA ION, AND ME…a.k.a. THE BRO MANS)
PICTURES FROM IMPACT WRESTLING'S LETHAL LOCKDOWN MIAMI WEEKEND ON 3/8/14 – 3/9/14