Portfolio
I AM THE MAN & MODERN DAY ADONIS OF IMPACT WRESTLING!!!
WAS HONORED TO APPEAR AT THE HEARTS OF REALITY CHARITY IN CELEBRATION, FLORIDA (FOR THE SECOND YEAR IN A ROW) TO BENEFIT GIVE KIDS THE WORLD VILLAGE FOR CHILDREN WITH LIFE-THREATENING ILLNESSES — 8/6/15 – 8/9/15
DEFEATED my former BroMans Tag Team Partner Robbie E in DECISIVE fashion in A STREETFIGHT on IMPACT WRESTLING on DESTINATION AMERICA…proving once & for all that The MAN is MUCH better than The Bro — 7/8/15
IMPACT WRESTLING SLAMMIVERSARY 2015 Pix (where I faced my former BroMans Tag Team Partner Robbie E on Pay-Per-View) — 6/28/15
Appeared on CBS' The TALK as the surprise Celebrity Guest in an INCREDIBLY FUN segment called SKIN, LOSE OR DRAW with Superstar Rebecca Romijn (thanks to my good friend and the Executive Producer of The TALK, John Redmann). I also reunited with CBS Big Brother Host (and Moderator of CBS' The TALK)…The One & Only Julie Chen!!! — 6/8/15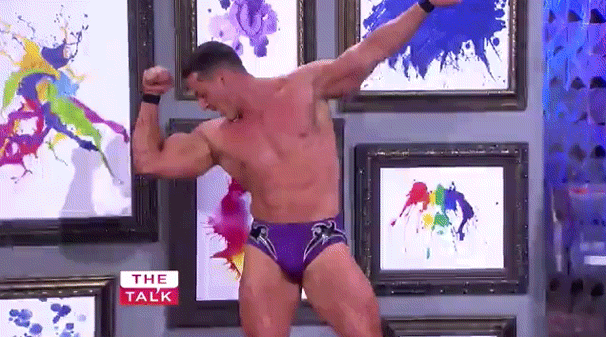 Pix of me vs. DJZ on IMPACT WRESTLING on DESTINATION AMERICA — 6/15
APPEARED AT WRESTLECON AND SHENANIGANS IN SAN JOSE, CALIFORNIA AS A GUEST OF MY GOOD BUDDY DAVE HERRO AND PWR PRO WRESTLING REPORT — 3/27/15 – 3/28/15
HANGING WITH MY GOOD BUDDY ROBERT DRENK, FOUNDER OF THE UAL (THE ULTIMATE ARM WRESTLING LEAGUE) AT TARGA TROPHY X FUSION OF IDEAS RALLY IN CALIFORNIA – 3/21/15
APPEARED ON DESTINATION AMERICA IN IMPACT WRESTLING'S ULTIMATE X MATCH FOR THE TAG TEAM TITLES IN A BOUT THAT WAS TAPED IN LONDON'S WEMBLEY ARENA — 3/20/15
APPEARED AT THE ARNOLD SPORTS FESTIVAL IN COLUMBUS, OHIO FOR BOTH VITARGO S2 AND PHOENIX KINETICREAM — 3/6/15 – 3/8/15
LATEST PIX…I am THE MAN and MODERN DAY ADONIS!!
PIX FROM THE MAXIMUM IMPACT 7 WORLD TOUR — 1/29/15 – 1/31/15
IMPACT WRESTLING FEAST OR FIRED POSTER — 1/23/15
PEC-TACULAR PIX WITH MY BUDDY, THE EDITOR OF MUSCLE & FITNESS MAGAZINE, SHAWN PERINE AND MY NEW FRIEND AARON TOLSON (ALONG WITH 5 TIME KO CHAMP GAIL KIM) AT OUR IMPACT WRESTLING TAPINGS IN NEW YORK CITY FOR DESTINATION AMERICA ON 1/9/15
2015 MAXIMUM IMPACT 7 WORLD TOUR POSTER
PIX OF THE BROMANS & BEAUTIFUL BROS FROM OUR DEBUT TV TAPINGS FOR DESTINATION AMERICA ON 1/7/15 – 1/9/15
MAJOR ANNOUNCEMENT ABOUT MY RE-SIGNING WITH IMPACT WRESTLING ON 1/2/15
My PEC-Tacular PEC Bounce During My Surprise Appearance on CBS Big Brother 12's Pandora's Box
THAT DROPKICK THO (6'6″ IN THE AIR)!! I'M AIR PEC-TACULAR!!! BOOM
THE BROMANS NOMINATED FOR TAG TEAM OF THE YEAR IN THE 2014 IMPACT WRESTLING AWARDS!!!
GYM PIX…I LOOK GOOD!!! BOOM
THE BROMANS WITH THE CBS AMAZING RACE SEASON 25 SUPERSTARS, THE #SWEETSCIENTISTS MAYA WARREN & AMY DeJONG, ON DECEMBER 7, 2014
YOUR TWO TIME IMPACT WRESTLING WORLD TAG TEAM CHAMPIONS…THE BROMANS
REPRESENTED IMPACT WRESTLING AT SPIKE TV'S BELLATOR MMA 131 EVENT FEATURING KING MO AND TITO ORTIZ AT VALLEY VIEW CASINO CENTER IN SAN DIEGO, CA ON NOVEMBER 15, 2014
PEC-TACULAR PIX BY THE BRILLIANT PHOTOGRAPHER GUSTAVO ALFARO
THE BEAUTIFUL BROS FACE THE MENAGERIE ON SPIKE TV'S IMPACT WRESTLING ON 11/12/14
THE BROMANS RETURN TO BRO-KYO TO TAKE PART IN THE WRESTLE-1 HOLD OUT CARD TO CELEBRATE KEIJI MUTO'S 30TH ANNIVERSARY ON 11/1/14
WITH ARNOLD SCHWARZENEGGER AT THE MUSCLE & FITNESS NOVEMBER 2014 COVER LAUNCH PARTY AT GOLD'S GYM VENICE (AS A PERSONAL GUEST OF MY BUDDY, M&F EDITOR SHAWN PERINE) — 10/28/14
THE BROMANS (DJZ AND I) ENTER THE IMPACT WRESTLING TAG TEAM TOURNAMENT TO TRY TO BECOME 3 TIME TAG CHAMPS ON 10/22/14
BEAUTIFUL BROS VS. THE MENAGERIE ON SPIKE TV'S IMPACT WRESTLING ON 10/15/14
The Beautiful Bros