Portfolio
LATEST PIX FROM THE SHOOT FOR OUR NEW AMAZON SERIES NEW DOGS, OLD TRICKS FROM GEMELLI FILMS — 6/18
VERY EXCITED TO MAKE A SPECIAL GUEST APPEARANCE ON THE SEASON 4 PREMIERE OF THE HIT EL REY NETWORK & NETFLIX TV SERIES LUCHA UNDERGROUND — 6/13/18
HONORED TO BE FEATURED IN SOAP OPERA DIGEST FOR MY NEW ROLE AS EVAN McLAINE ON AMAZON'S NEW DOGS, OLD TRICKS — 5/18
WHAT A REAL CHAMP LOOKS LIKE!!!!
THRILLED TO BE AN INVITED GUEST AT THE CELEBRITY BIG BROTHER FINALE ON CBS!! — 2/18
ABSOLUTELY HONORED TO APPEAR ON THE PREMIERE OF CELEBRITY BIG BROTHER ON TV's BEST & MOST WATCHED NETWORK…MY FIRST FAMILY FOR A DECADE NOW…ONLY CBS!! — 2/7/18
PRIVILEGED TO RETURN TO TMZ ON TV FOR ANOTHER FUN ENCOUNTER WITH MY BUDDY JEREMY KOVACS, THE AWESOME TMZ CAMERAMAN. — 2/18
EXCLUSIVE PIX FROM OUR NEW MUSIC VIDEO FOR OUR NEW SINGLE, THE GIRL IS WITH ME. It WAS AMAYYYZING!!! IT STARS WORLD-RENOWNED RECORDING ARTIST JEFF TIMMONS FROM THE LEGENDARY GROUP 98 DEGREES!! IT ALSO STARS THE WINNER OF BIG BROTHER OVER THE TOP FROM CBS ALL ACCESS…THE INCREDIBLE MORGAN WILLETT!!! SHE PLAYS THE ROLE OF "THE GIRL". THE MUSIC VIDEO WAS PRODUCED BY THE PRODUCING DREAM TEAM…THEE BRILLIANT BRYAN EDWARDS, AND THE EXTRAORDINARY SONIA BLANGIARDO & BRANDON GOINS OF THE USUAL BS PRODUCTIONS. MY FAM!! THE GIRL IS WITH ME WAS WRITTEN BY THE PHENOMENAL TEAM OF JEFF TIMMONS & CRAIG FECHTER!!! — 2/18
AWESOME TIME SHOOTING THE NEW AMAZON SITCOM NEW DOGS, OLD TRICKS WITH THE WHOLE CAST INCLUDING MY EXTRAORDINARILY TALENTED BROTHERS CODY CALAFIORE & PAUL CALAFIORE, THE PHENOMENAL CLAYTON SNYDER, AMERICAN IDOL LEGEND CLAY AIKEN, AND LEGENDARY MOVIE/TV SUPERSTAR ERIC ROBERTS! DIRECTED/PRODUCED/CREATED by THEE BRILLIANT CANDICE CAIN! SO. MUCH. FUN!! I PLAY EVAN McLAINE ON THE SERIES AND I'M INCREDIBLY HONORED AND THANKFUL TO BE IN THE CAST! SO STOKED FOR YOU TO SEE IT. THE SERIES IS A SPINOFF OF THE HIT SONY MOTION PICTURE, WHAT HAPPENED LAST NIGHT!! IT DEBUTS FRIDAY, SEPTEMBER 28th, 2018 ONLY ON AMAZON!— 2/18
SOOOOO PROUD TO HAVE THE ANNOUNCEMENT OF MY PRIDE & JOY, MY EVERYTHING…MY SON LUCAS PRINCETON GODDERZ, COVERED BY ENTERTAINMENT WEEKLY — 1/6/18
AWESOME TIME AT THE CW NETWORK'S KTLA MORNING NEWS IN LOS ANGELES PROMOTING SEASON 2 OF MY HIT AMAZON SERIES TAINTED DREAMS AND, OF COURSE, MY CELEBRITY BIG BROTHER FAM ON CBS!!! — 1/21/18
INCREDIBLY HONORED TO CONTINUE TO STAR IN THE AMAZON HIT SERIES TAINTED DREAMS…CREATED AND EXECUTIVE-PRODUCED BY MULTIPLE EMMY AWARD-WINNING DIRECTOR/PRODUCER AND CURRENT DIRECTOR OF NBC'S DAYS OF OUR LIVES (AND CLOSE FRIEND) SONIA BLANGIARDO. SEASON 2 WAS JUST RELEASED. — 12/29/17
EXCITED TO ANNOUNCE A COLLABORATION WITH FITNESS LEGEND (AND GOOD FRIEND) MIKE O'HEARN TO DO A WORKOUT VIDEO TOGETHER IN 2018. MEANTIME, I HAD A CHANCE TO WORKOUT WITH MIKE AND HIS FRIENDS AT THE MECCA, GOLDS GYM VENICE BEACH, AND HAD A PEC-TACULAR TIME!! — 12/16/17
VERY EXCITED TO ANNOUNCE MY SPECIAL MAIN EVENT APPEARANCE AT THE THUNDER BAY WRESTLING SUPERCARD VS. MR. ANDERSON!! — 11/23/17
STOKED TO ANNOUNCE A VERY SPECIAL WRESTLING APPEARANCE ON THURSDAY, NOVEMBER, 9th IN BALDWIN PARK, CA! FOR THE FIRST TIME EVER, SEE CBS BIG BROTHER SUPERSTARS AUSTIN MATELSON AND I AS TEAM BIG BROTHER FOR ONE NIGHT ONLY at BAR WRESTLING!!! –11/9/17
THRILLED TO BE CAST IN THE NEW MOTION PICTURE DAYS LIKE THIS. THE MOVIE IS A GEMELLI FILMS PRODUCTION, IN CONJUNCTION WITH CB3TV. THE FILM IS WRITTEN/DIRECTED BY THEE BRILLIANT CANDICE CAIN AND ALSO STARS THEE PHENOMENAL CODY CALAFIORE, SHELLEY REGNER AND BRIAN TYLER COHEN. — 10/17
HAD AN AWESOME TIME AT THE CBS BIG BROTHER 19 FINALE WITH MY BIG BROTHER & CBS FAMILIES AND ALSO NEW FRIENDS!! — 9/20/17
INCREDIBLE TIME FILMING EPISODE 2 OF THE TV SERIES NEW DOGS, OLD TRICKS IN NEW YORK (WITH MY NDOT FAMILY INCLUDING PHENOMENAL DIRECTOR/EXECUTIVE PRODUCER CANDY CAIN AND BRILLIANT STAR CODY CALAFIORE) — 9/17
TREMENDOUSLY HONORED TO RETURN HOME TO MY TV FAMILY FOR 9 YEARS NOW, CBS' BIG BROTHER, TO APPEAR IN THE BB MOVIE TRAILER, BB REVENGERS!!! — 9/10/17
PRIVILEGED TO ATTEND THE 2017 OLYMPIA EXPO IN LAS VEGAS TO REPRESENT MY INCREDIBLE SPONSOR VITARGO S2. SAW A LOT OF GREAT FRIENDS IN VEGAS INCLUDING JEFF TIMMONS FROM 98 DEGREES, THE DESTROYER BOBBY LASHLEY AND TJ PERKINS (TJP)!! — 9/17
THRILLED & HONORED TO MAKE A VERY SPECIAL GUEST APPEARANCE ON DAYTIME TV'S TOP-RATED NETWORK SERIES FOR OVER 30 YEARS…THE ONE & ONLY…THE LEGENDARY…THE YOUNG AND THE RESTLESS!! ON MY HOME FOR 9 YEARS NOW…ONLY CBS!! — 8/4/17
ENTERTAINMENT TONIGHT INTERVIEW WITH ET'S VERY OWN BRICE SANDER ABOUT MY PEC-TACULAR THOUGHTS ON THE CBS BIG BROTHER HOUSEGUESTS SO FAR THIS SEASON, AS WELL AS THE SHOW'S MOST SHOCKING MOMENTS. I WAS INTERVIEWED ALONGSIDE FELLOW BB SUPERSTAR DA'VONNE ROGERS FOR BIG BROTHER'S FACEBOOK PAGE. — 7/21/17
HONORED TO BE FEATURED ON TMZ AND BECOME THE INAUGURAL TMZ THUMB WRESTLING GRAND CHAMPION — 7/10/17
PROUD TO BE FEATURED ON AOL BUILD SERIES NYC ALONGSIDE MY GOOD FRIEND AND THE CREATOR/EXECUTIVE PRODUCER OF AMAZON'S TAINTED DREAMS, TV LEGEND SONIA BLANGIARDO. MY OTHER GOOD FRIEND (AND TV LEGEND) BRIAN BALTHAZAR WAS OUR INTERVIEWER. — 7/7/17
LATEST PEC-TACULAR PIX
2 REALITY LEGENDS IN 1 PIC!! AWESOME TIME HANGIN' WITH ABC'S THE BACHELORETTE, ABC'S BACHELOR IN PARADISE & E! ENTERTAINMENT TELEVISION'S FAMOUSLY SINGLE SUPERSTAR CHAD JOHNSON FOR A NEW PROJECT (NO DETAILS CAN BE RELEASED YET THOUGH!) — 7/17
AWESOME TIME hanging out with my good friend and THE STAR of E! Entertainment Television's THE ARRANGEMENT…my brotha JOSH HENDERSON!! We hung out and watched the Season Finale of his show at his special viewing party. SO. MUCH. FUN!! — 5/7/17
HONORED TO ATTEND THE CREATIVE ARTS DAYTIME EMMY AWARDS TO SUPPORT MY FAMILY ON THE HIT AMAZON TV SERIES TAINTED DREAMS, WHICH RECEIVED 5 DAYTIME EMMY NOMINATIONS, INCLUDING OUTSTANDING DIGITAL DRAMA SERIES. THE PRESTIGIOUS EVENT TOOK PLACE AT THE PASADENA CONVENTION CENTER. I THEN RETURNED TWO DAYS LATER TO ATTEND THE 44th ANNUAL DAYTIME EMMY AWARDS AT THE SAME VENUE. HAD AN INCREDIBLE TIME BOTH NIGHTS. — 4/28/17 & 4/30/17
ABSOLUTELY HONORED TO TEAM UP WITH MY GOOD FRIEND…LEGENDARY 98 DEGREES SUPERSTAR JEFF TIMMONS, ON A BRAND NEW SINGLE ENTITLED, "THE GIRL IS WITH ME"!! IT'S SCHEDULED TO BE RELEASED THIS SPRING. IT WAS ALSO AWESOME MEETING UK SUPERSTAR SAM CALLAHAN IN STUDIO WHILE RECORDING THE SINGLE!! — April, 2017
PEC-TACULAR PHOTOS FROM MY RETURN TO MY HOME STATE OF IOWA ON AMAZON'S TAINTED DREAMS ROAD TO THE DAYTIME EMMYS TOUR, FOR A HOST OF INCREDIBLE APPEARANCES, FESTIVITIES AND EVENTS (INCLUDING FOR NBC AND THE CW) — 4/20/17
LATEST WRESTLING PIX
INCREDIBLY PROUD TO BE TEAMING UP WITH TV LEGENDS (AND GOOD FRIENDS) ON A NEW TV PROJECT! SOME OF THESE FRIENDS INCLUDE MICHAEL LEVITT (EXECUTIVE PRODUCER OF GSN's SKIN WARS AND WINDOW WARRIORS, THE DAYTIME EMMY AWARDS, BRAVO'S KATHY GRIFFIN MY LIFE ON THE D LIST, et al), TAREK EL MOUSSA (FROM HGTV's FLIP OR FLOP) AND CEDRIC CHANNELS FROM MTV's LAGUNA BEACH/THE HILLS — 3/17
INCREDIBLY AWESOME TIME AT THE IMPACT WRESTLING TV TAPINGS…THE FIRST ONE WITH THE PHENOMENAL EXECUTIVES FROM ANTHEM SPORTS & ENTERTAINMENT AT THE HELM!! — 1/17
LATEST PEC-TACULAR PIX — 1/17
PRIVILEGED TO STAR IN THE LAUNCH OF THE NEW AMAZON & AMAZON PRIME SERIES TAINTED DREAMS ON 12/26 (AS LEADING MAN DYLAN BUCKWALD), ALONGSIDE MANY OF DAYTIME TV'S BIGGEST LEGENDS — 12/26/16
VERY PROUD TO HELP OUT WITH THE CHARITABLE ORGANIZATION OPERATION HOMEFRONT, AT FERRARI OF NEWPORT BEACH. THIS INCREDIBLE CHARITY HELPS WITH FINANCIAL ASSISTANCE, FOOD ASSISTANCE, REPAIRS, ETC., FOR FAMILIES OF OUR SERVICE MEMBERS AND WOULNDED WARRIORS — 12/18/16
HONORED TO TEAM UP WITH COMEDY LEGEND GEORGE LOPEZ AS WE MET FANS AT THE GRAND OPENING OF HIS NEW STORE fifty150 BRAND CLOTHING & APPAREL IN OXNARD, CA — 12/4/16
MR. PEC-TACULAR CARTOON ILLUSTRATIONS BY THE TREMENDOUSLY TALENTED D.M. EASON!!!
HONORED TO HAVE BEEN A SPECIAL GUEST OF WNBF VP BOB BELL AT THE 2016 WNBF CELLUCOR PRO/AMATEUR WORLD CHAMPIONSHIPS AT THE CENTINELA VALLEY CENTER FOR THE ARTS IN LAWNDALE, CA (IT WAS MY RETURN HOME…I WAS THE YOUNGEST NATURAL PRO BODYBUILDER IN THE USA VIA THE WNBF AND ALSO MR. NATURAL IOWA 2008 IN THE WNBF) — 11/19/16
MY HUGE MATCH AND A MAJOR WIN FOR ME VS ARON REX ON IMPACT WRESTLING ON POP TV (IMPACT ON POP) IN THE US AND ON FIGHT NETWORK IN CANADA — 11/17/16
AWESOME TIME MEETING TV PRODUCER LEGEND MIKE LEVITT, TV EXECUTIVE JILL GOULARTE AND TV SUPERSTAR TAREK EL MOUSSA (FROM HGTV MEGA-HIT FLIP OR FLOP) AT A LUNCH MEETING WITH MY FRIENDS MIKE SHAPIRO AND KAREN WEINBERG — 9/30/16
HONORED TO BE A SPECIAL GUEST AT THE STAR-STUDDED FINALE OF CBS' BIG BROTHER 18 AND BE ABLE TO TAKE A PICTURE WITH TV'S BEST HOST, THE ONE & ONLY JULIE CHEN — 9/21/16
PRIVILEGED TO PLAY THE ROLE OF EVAN McLAINE IN THE NEW TV SERIES NEW DOGS, OLD TRICKS (WHICH IS A SPIN-OFF OF THE SONY FEATURE FILM, WHAT HAPPENED LAST NIGHT). DIRECTED BY THEE BRILLIANT CANDICE CAIN AND STARRING FELLOW CBS BIG BROTHER LEGEND (AND VERY GOOD FRIEND) CODY CALAFIORE — 9/16
AWESOME TIME AT THE 2016 OLYMPIA EXPO IN LAS VEGAS, NV!! — 9/17/16
NAMED TO THE BOUND FOR GOLD MATCH AT THE IMPACT WRESTLING BOUND FOR GLORY PPV…FOR A SHOT AT THE WORLD TITLE!! — 10/2/16
HONORED TO RETURN HOME TO CBS' BIG BROTHER AS THE CELEBRITY GUEST FOR "DUNK A HUNK" — 8/19/16
PRIVILEGED TO "TAKE OVER" POP TV ONCE AGAIN WITH AN ORWELL GAMES TAKEOVER DURING BIG BROTHER AFTER DARK (BBAD). THIS IS MY THIRD TAKEOVER OF POP (TWO OF THE ORWELL GAMES AND ONE OF POP'S TWITTER HANDLE) — 7/28/16
HONORED TO BE INVITED TO WATCH THE BIG BROTHER 18 LIVE EVICTION TAPING AT CBS, DO A FACEBOOK INTERVIEW WITH JEFF SCHROEDER AND LAWON EXUM…AND THEN TAKE PIX WITH BB HOST (THEE BEST IN THE BIZ) JULIE CHEN — 6/30/16
CBS ALL ACCESS INTERVIEW WITH FELLOW CBS BIG BROTHER LEGEND JEFF SCHROEDER TO DISCUSS BIG BROTHER 18 — DEBUTED 6/24/16
PEC-TACULAR PIX BY BRILLIANT PHOTOGRAPHER (AND MY GOOD FRIEND) ERIK JOHNSON OF E-STUDIOS PHOTOGRAPHY
THE BROMANS WITH OUR VERY CLOSE FRIEND, THE ABSOLUTELY BRILLIANT SHERI SHAW FROM SSTARIA!
IMPACT WRESTLING ANNOUNCEMENT THAT WE'RE MOVING FROM TUESDAY NIGHTS TO THURSDAY NIGHTS ON POP!!
PIX OF THE BROMANS WITH OUR HOT NEW GURU RAQUEL
BROMANS vs. DECAY IMPACT WRESTLING TAG TEAM TITLE MATCH at SLAMMIVERSARY PPV in Orlando, FL — 6/12/16
INCREDIBLY HONORED TO HAVE BEEN FEATURED IN A SPECIAL CBS BIG BROTHER PRIMETIME EDITION OF THE PRICE IS RIGHT (AND MY APPEARANCE WAS ALSO FEATURED IN PEOPLE MAGAZINE)!! –5/24/16
RE-SIGNED WITH TNA IMPACT WRESTLING ON POP!!! — 5/4/16
HONORED TO BECOME A BUILT APPAREL SPONSORED ATHLETE — 4/11/16
THE PHENOMENAL REUNION OF THE TWO-TIME TAG TEAM CHAMPS, THE BRO MANS, ON IMPACT ON POP!! — 3/22/16
PEC-TACULAR APPEARANCE AT THE WRESTLING GUY STORE IN HUNTINGTON PARK, CA — 3/11/16
VITARGO BOOTH AT ARNOLD SPORTS FESTIVAL 2016 IN COLUMBUS, OH — 3/4/16 – 3/5/16
HONORED TO BE FEATURED AS STAR MAGAZINE'S CELEBRITY PARTING STAR SHOT OF THE WEEK WITH A PIC OF MY MOST RECENT APPEARANCE ON CBS' THE TALK — LAST WEEK OF JANUARY, 2016
PEC-TACULAR PIX OF YOUR MODERN DAY ADONIS FROM THE TNA MAXIMUM IMPACT UK TOUR 2016 — 1/29/16 – 1/31/16
PRIVILEGED TO RETURN TO TV'S BEST TALK SHOW, CBS' THE TALK, TO SURPRISE THE AUDIENCE IN A MEMORABLE FUN OPENING SEGMENT THAT WENT VIRAL. THIS APPEARANCE WAS ALL DUE TO MY GOOD FRIEND (AND THE EXECUTIVE PRODUCER OF THE TALK, JOHN REDMANN, AND THE ONE & ONLY JULIE CHEN) on JANUARY 21st, 2016
HONORED TO HAVE POP TV USE A GIANT PROMINENT PICTURE OF ME ON THE HOME PAGE OF THEIR NETWORK WEBSITE TO PROMOTE IMPACT WRESTLING'S MOVE TO POP TV IN JANUARY, 2016
VERY PROUD to STAR as CONAN THE BARBARIAN in the Comedic MOVIE KID BARBARIAN from Paper Tiger Films (I star alongside BRILLIANT young actor JONATHAN TYSOR. The Movie is Directed by THE PHENOMENAL JAMES PARRIS who also worked creatively on The Lion King, Spiderman, X2: X-Men United, I Robot, The Curious Case of Benjamin Button and The Sorcerer's Apprentice.) — 12/15
HONORED TO REPRESENT IMPACT WRESTLING AT THE CIRQUE DU SOLEIL EVENT #KURIOS AT DODGERS STADIUM IN LOS ANGELES, CA — 12/9/15
PRIVILEGED TO REPRESENT IMPACT WRESTLING AT THE 2016 MISS CALIFORNIA USA PAGEANT IN LONG BEACH, CA — 12/6/15
I AM THE MAN & MODERN DAY ADONIS OF IMPACT WRESTLING!!!
HONORED TO FILM A TELEVISION MOVIE FOR FX CALLED SNOWFALL, DIRECTED BY LEGENDARY DIRECTOR JOHN SINGLETON (FROM 2 FAST 2 FURIOUS AND BOYZ N THE HOOD). I PLAY A CHARACTER NAMED LIGHTNING ROD! THE FILM WILL AIR IN 2016!! — 10/15
PIX OF MY NEW PEC-TACULAR TEES AVAILABLE FROM www.RealityShowTees.com (YOU CAN ORDER AT: http://www.realityshowtees.com/jessiegodderz)
WAR OF THE GLADIATORS APPEARANCE FOR GCW EXTREME (LIVE PRO WRESTLING/NEW YORK WRESTLING CONNECTION) IN QUEENS, NY– 12/18/15
CELEBRITY AUTOGRAPH SIGNING AT BIG EVENT IX IN QUEENS, NY — 11/14/15
IMPACT WRESTLING WORLD TITLE SERIES ON DESTINATION AMERICA — 10/15 – 12/15
PARAGON PRO WRESTLING (PPW) TV TAPING FOR POP TV WHERE I REUNITED WITH MY PEANUT BUTTER CUP LISA MARIE VARON (TARA FROM IMPACT WRESTLING) AS HOLLYWOOD'S HOTTEST COUPLE — 10/6/15
IMPACT WRESTLING BOUND FOR GLORY 2015 PAY-PER-VIEW PIX FOR THE BOUND FOR GOLD GAUNTLET MATCH IN CONCORD, NORTH CAROLINA WHERE I MADE IT TO THE FINAL 3!! IN ATTENDANCE WERE MY FRIENDS…THE INCREDIBLE SHERI SHAW FROM SSTARIA (WHO CREATED MY ENTRANCE THEME MUSIC "ADONIS") AND CBS BIG BROTHER SUPERSTAR DONNY THOMPSON FROM BB16!! — 10/4/15
HONORED TO TAKE A PIC WITH MY BUDDY CHRIS ROACH AT THE CBS BIG BROTHER 17 FINALE (HE'S THE CO-EXECUTIVE PRODUCER OF THE SHOW AND WHO I OWE EVERYTHING TO) — 9/23/15
STOKED TO TAKE A PIC WITH THEE BEST HOST ON TELEVISION, THE INCOMPARABLE ONE & ONLY JULIE CHEN, AT THE CBS BIG BROTHER 17 FINALE — 9/23/15
PRIVILEGED TO TAKE A PIC WITH MY BUD JOHN REDMANN OUTSIDE THE CBS BIG BROTHER 17 STUDIOS (HE'S THE EXECUTIVE PRODUCER OF CBS' THE TALK) — 9/23/15
HONORED TO BE INVITED TO THE CBS BIG BROTHER 17 (#BB17) FINALE AS A SPECIAL GUEST — 9/23/15
PRIVILEGED TO HOST POP TV's ORWELL GAMES DURING BIG BROTHER AFTER DARK (#BBAD) — 9/15/15
HONORED TO RETURN TO MY FIRST FAMILY, CBS' BIG BROTHER, FOR A SEVENTH YEAR, MAKING A SURPRISE APPEARANCE TO HOST A VETO COMP FOR THE HOUSEGUESTS ON #BB17 — 9/9/15
PEC-TACULAR PIX FROM OLYMPIA WEEKEND IN LAS VEGAS, NV FOR VITARGO (MY PHENOMENAL SPONSOR!!) — 9/15
TNA IMPACT WRESTLING'S POSTER PROMOTING MY LIVE APPEARANCE IN SALEM, VA ON 10/3 (WHERE I FACE "THE IT FACTOR" BOBBY ROODE FOR THE KING OF THE MOUNTAIN TITLE) — 9/15
PARAGON PRO WRESTLING'S (PPW) POSTER PROMOTING MY SPECIAL APPEARANCE AT THEIR TV TAPINGS IN LAS VEGAS ON 10/6 REUNITING ME WITH MY PEANUT BUTTER CUP LISA MARIE VARON (FORMERLY TARA OF IMPACT WRESTLING) AS HOLLYWOOD'S HOTTEST COUPLE…FOR POP TV — 9/15
WAS HONORED TO APPEAR AT THE HEARTS OF REALITY CHARITY IN CELEBRATION, FLORIDA (FOR THE SECOND YEAR IN A ROW) TO BENEFIT GIVE KIDS THE WORLD VILLAGE FOR CHILDREN WITH LIFE-THREATENING ILLNESSES — 8/6/15 – 8/9/15
DEFEATED my former BroMans Tag Team Partner Robbie E in DECISIVE fashion in A STREETFIGHT on IMPACT WRESTLING on DESTINATION AMERICA…proving once & for all that The MAN is MUCH better than The Bro — 7/8/15
IMPACT WRESTLING SLAMMIVERSARY 2015 Pix (where I faced my former BroMans Tag Team Partner Robbie E on Pay-Per-View) — 6/28/15
Appeared on CBS' The TALK as the surprise Celebrity Guest in an INCREDIBLY FUN segment called SKIN, LOSE OR DRAW with Superstar Rebecca Romijn (thanks to my good friend and the Executive Producer of The TALK, John Redmann). I also reunited with CBS Big Brother Host (and Moderator of CBS' The TALK)…The One & Only Julie Chen!!! — 6/8/15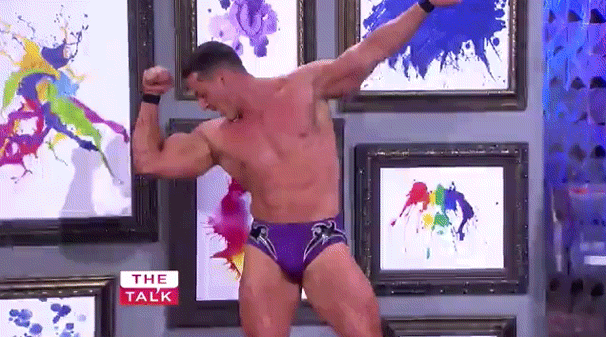 Pix of me vs. DJZ on IMPACT WRESTLING on DESTINATION AMERICA — 6/15
APPEARED AT WRESTLECON AND SHENANIGANS IN SAN JOSE, CALIFORNIA AS A GUEST OF MY GOOD BUDDY DAVE HERRO AND PWR PRO WRESTLING REPORT — 3/27/15 – 3/28/15
HANGING WITH MY GOOD BUDDY ROBERT DRENK, FOUNDER OF THE UAL (THE ULTIMATE ARM WRESTLING LEAGUE) AT TARGA TROPHY X FUSION OF IDEAS RALLY IN CALIFORNIA – 3/21/15
APPEARED ON DESTINATION AMERICA IN IMPACT WRESTLING'S ULTIMATE X MATCH FOR THE TAG TEAM TITLES IN A BOUT THAT WAS TAPED IN LONDON'S WEMBLEY ARENA — 3/20/15
APPEARED AT THE ARNOLD SPORTS FESTIVAL IN COLUMBUS, OHIO FOR BOTH VITARGO S2 AND PHOENIX KINETICREAM — 3/6/15 – 3/8/15
LATEST PIX…I am THE MAN and MODERN DAY ADONIS!!